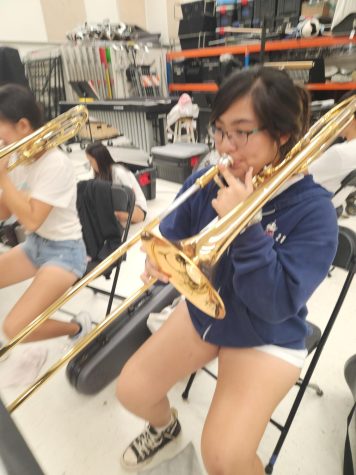 This past quarter, Kaiser High School's marching band has made an entrance in the music department. 
Led by Mr. Michael Bataluna, students ranging from freshman to seniors perform pieces at parades and festivals around Oahu. Using their knowledge of music, they work together to create beautiful works of art. 
Marching band is considered an extracurricular that is part of the electives band and IB music. Different from concert, marching requires students to perform in standing formations on a field or open roadway, moving in sync with other members to form shapes and unique line-ups. Besides providing a pastime for many students, though, marching has several educational skills that will benefit students for years to come. According to Mr. Bataluna, participating marching band, "builds community, provides physical training, and helps students learn to work with all kinds of people." He says that these skills are necessary for the real world, as many of these are not taught within normal public school education. 
Students all around Kaiser enjoy marching band, and the time and effort that goes into it. For some, it is a meaningful experience that paves the way for enjoyable times. 
"It benefits me in multiple ways," says Hiro Hardy, a junior. "Socially, I've made more friends, and got connected with upper/underclassmen. Music in general has given me a passion I never would have known about. It's a great experience."
Hiro plays auxiliary percussion, such as the bass drum and brake drum. He also is a member of the orchestra program as well. 
Life-long benefits aren't the only positive of music. For some, it holds the same weight as an extracurricular sport or club. Students put in hours of time to work on perfecting their performances and tuning. 
"My favorite part of marching band is performing the music itself, and the friends I made in drumline." adds Hardy. 
Music is an integral part of education. Though not as prominent as English or math, or equal to sports and clubs, marching band is an important activity for many students at Kaiser. As they close off the season, the participating students reflect on their journey through music and as a team.