ACT Prep – Importance of State Testing
On February 28th, 2023, juniors will take the ACT at Kaiser High School to help prepare them for college applications in the coming year.
The ACT is a standardized test that is used to test a student's academic readiness for college. Depending on answers to the five sections, a student's scores will let them know what they need to prepare for and work on in the coming year before their senior year. The ACT's Student Profile Section and Interest Inventory also provide suggestions for a student's career. It can be used on college applications to show potential colleges why they should admit you to their school. 
The test will be administered during the school day. Unlike the SAT, the ACT is only for juniors. Freshmen, sophomores, and seniors will get the day off to use productively. Juniors taking the test do not need to register or pay in order to take it. An email will be sent to them regarding their room assignments and confirmation of their registration.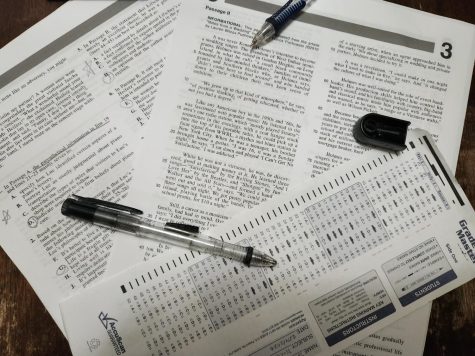 Colleges often look to your test scores to help narrow down their acceptances. While they also check other factors, such as your record or extracurriculars, good test scores are ultimately one the most important defining factors. It tells them what your skills currently are and what you should improve on. For careers in fields that involve good English, math, and science skills, it is necessary to have high scores in those sections because it shows that you are competent in your potential work.
The ACT will go through five different sections—English, mathematics, reading, writing, and science. Each of these sections will relate to criteria the student should be learning and understanding. While the writing portion is considered optional, it is suggested that student's do it since many requirements for college's scores differ. The other four sections will be multiple choice.
The test will be three and a half hours long. Students will be dismissed from their test rooms following completion.
In order to prepare for the ACT, students should study well in advance to prepare for the test sections. Some examples of this are to check up on your current understanding of English, math, and science skills. To do this, it would be a smart idea to review your current curriculum for these classes, or see the practice sections and examples of previous ACT tests. Making sure you understand things like advanced math formulas or elements of literary works are good examples of this. Another thing is to make sure that students eat a full breakfast and sleep well so they are able to perform at their best. Nutrition and sleep are prime factors in making us think and feel better while we work throughout the day. Foods that include nutrients like protein, fiber, and calcium are good examples of proper nutrition before testing. 
Best of luck, Juniors!