The Last Film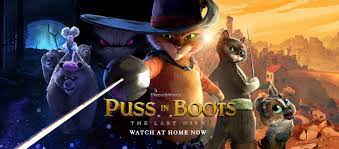 Puss in Boots: The Last Wish is extraordinary. Not only thanks to its stellar animation and surprisingly nuanced take on mature themes, but also in how it manages to justify a reason to exist in the first place. It's a sequel to a spin-off that already came around several years after Shrek had reached its apex, capitalizing on a supporting character who many believed didn't have the depth to support his own adventures. Yet here we are, blown away by an Oscar contender that not only builds on the saturated beauty introduced to Western animation with Into the Spider-Verse, but also teases an exciting future for this universe that I cannot wait to see. A favorite fearless hero indeed.
The music is one of the film's standout elements. Overseen by Brazilian composer Heitor Pereira, the soundtrack ranges from original pieces sung by Pereira and Banderas or Latin American stars like Gaby Moreno and Karol G to reworked classics, like a Spanish-infused version of The Doors "The End" (Puss' own Apocalypse Now?). The story's blend of fairy tale characters can be a tad confusing — menacing villain Jack Horner, a selfish Goldilocks sometimes confused for Bo Peep, and a big, bad wolf. It's part of the Shrek franchise's personality, but unrecognized characters could have functioned just as well and maybe have been less muddied, allowing even more focus on the fanciful felines. The reality is that many viewers will come for the cat — and this latest adventure does assure that they'll stay for the cat.
Fearless hero Puss in Boots (voiced by Antonio Banderas) is enjoying the spoils of his fame when he's unexpectedly killed at the start of PUSS IN BOOTS: THE LAST WISH. As he's brought back to life, he's warned that he has now run through eight of his nine lives. The reality of his mortality fills Puss with a newfound fear of death. This is amplified by the menacing wolf (Wagner Moura) who begins pursuing him, promising to take his last life. Puss goes into hiding at a cat rescue home, where he meets an innocent and lonely chihuahua, Perrito (Harvey Guillén), who clings to Puss as his new best friend. One day, the three bears (Olivia Colman, Ray Winstone, and Samson Kayo) and Goldilocks (Florence Pugh) show up at Puss' hideout, and the cat overhears their plans to make off with a magical map that will lead them to the mystical Last Wish — which could perhaps be the secret of regaining his immortality. Puss takes off, Perrito on his tail, to find the map and make his wish. En route, he encounters more threats, especially Jack Horner (John Mulaney), and runs into old flame Kitty Softpaws (Salma Hayek Pinault).
Puss in Boots: The Last Wish is both an instant classic and a tantalizing glimpse at where DreamWorks will take its films in the years to come. All of a sudden the idea of a Shrek reboot doesn't make me roll my eyes, it excites me thanks to the possibilities teased by a spin-off that will turn it into far more than an overflowing volcano of dated references. There is a clear wind of change flowing through animation right now, and The Last Wish could be the strongest gust we've seen yet. With any luck, it will only lead to bigger and better things.