Does Genius Even Matter in this Day and Age?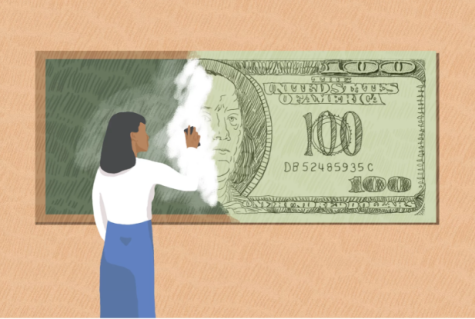 The notion that one can become successful simply by picking themselves up by their bootstraps is a spoon-fed lie. Leading many to believe that hard work, determination, and a positive attitude are what solely drive us to victory, However, luck changes from person to person, and it begins to set its roots in education.
Two examples of this are the Advanced Placement (AP) and International Baccalaureate (IB) programs, which are known to be taken by students who want a more college-level environment of learning. These are for the students who "excel," for the "brightest" thinkers of our time, though, this is not the truth. 
"The gap in education in this country, the unfairness of the schools, is one one of the great unfairness in this society." said Gaston Caperton in an interview on Advanced Placement Programs.
The economic barriers are what holds students back from achieving their goals, not the  students themselves. 
"The 2021-2022 IB subject fee is $119 per DP course and must be paid in full by December of the student's Junior year. Fees are subject to change for 2022-2023," according to the International Baccalaureate Diploma Programme (IBDP)  Request Form filed by Kaiser High School.
As of now, the IBDP set payment per course is $119. Other programs offer a $250 upfront payment for the entirety of the course. AP follows similar pricing, with a cost of $97 to participate in the exam in May. 
EZMeal, when applied to low-income households, can expect reduced AP prices under $20, free ACT/SAT exams, free college applications, and free running start programs for the school. This is an exceptionally great idea to support these households, however, the cut-off to meet these requirements to qualify is so tightly set, that it can be quite hard to receive funding. 
Hawaii in particular can be a confusing environment to truly understand and make do with, as the average income rate of a household to household spending is so outrageous. The defining problem that was hinted at earlier, is that despite households not being under a poverty threshold by the state's standards, it does not mean that these households have extra spending money to support other expenses that should already be supplied. 
A similar example of this problem would be the removal of benefits (such as food stamps) due to a slightly higher income that just barely exceeds the poverty threshold. "PBS Hawai'i: Who are Hawaii's working poor?" highlights this issue amazingly with their discussion on ALICE(Asset Limited, Income Constrained, Employed), an organization run by Aloha United Way, that hopes to bring awareness to households that fit under this umbrella term. Here is a snippet of dialogue from the interview with Yunji De Neis (Moderator of discussion), Connie Mitchell (Executive Director of the Institute for Human Services), Norm Baker (Chief Operating Officer of Aloha United Way), Nani Medeiros (Executive Director of a non-profit organization), and Zi Jun, a child who is considered an ALICE member:
YUNJI DE NEIS: We were talking earlier, you were saying that your father had gotten a raise, but then that had actually [had] a negative impact on your family. Tell us about that.
ZI JUN: He's gotten a raise after getting a new position in Chinatown as a cook. 
The raise is really nice, the family is really happy about it.
But later on, we realized that because of the raise, some benefits that we were getting actually [were] taken away, and we no longer receive those benefits.
And in that case, our total- like household income, decreased, despite my dad working hard every day, and earning that raise that we were so happy about originally.
YUNJI DE NEIS: Norm, how common is that?
NORM BAKER: It is far more common than you would ever know. Many of the government assistance programs have cliffs- and you hit a certain income, and you are locked out of the program. And what happens is people lose a benefit much like Zi has described, and they're actually going backward by progressing.
In addition, this also applies to funding for FAFSA, and individuals who are just above the threshold that is defined for the "cap-off", who basically get swindled despite not being exaggeratedly well-off in their lifestyle. The system is based on extreme highs and lows, and doesn't regard the little increments that off-set their system's make-up, and until the proper change is made, students who strive for more in life cannot properly get an equal chance at unlocking their highest potential.
The Excellent Gap Persists
This is where the excellent gap begins to widen, and where education ultimately becomes divided. The excellent gap can best be described as a division between lower-income and higher-income households through education. 
This can be seen through higher-income households being able to afford tutoring, higher courses, and SAT/ACT retesting, while lower-income families can just hope that an opportunity will bless them. Now, despite low-income students being just as gifted as those who have these academic opportunities, almost none get the proper education to flourish like such. 
Many may say that it is fair and that these high-income household students earned their way to the top, but, it was done when all odds were stacked against the low-income household students. This unfairness cannot be justified, as it is seen within the system itself that holds back people in poorer neighborhoods. 
For example, there is a drastic comparison in test scores of Kaiser High School to Wai'anae High School. When we analyze the test scores of subject efficiency the numbers are significantly different. 
Provided by US News, subject proficiency for a student from Wai'anae High School in mathematics is 30, which is the state's average proficiency rate. As for reading comprehension, Wai'anae is at a 1, while the average is at 60. Now let's compare that to Kaiser High School, a school from a generally well-protected suburb. Currently, they are above both the state and district average in both mathematics and reading comprehension with a 47 (mathematics) and a 77 (reading comprehension).
These statistics are huge, and the gap in numbers is absolutely concerning. Interestingly enough, when we examine the ethnic background of the student body from both schools, the racial disparities hold true to the situation.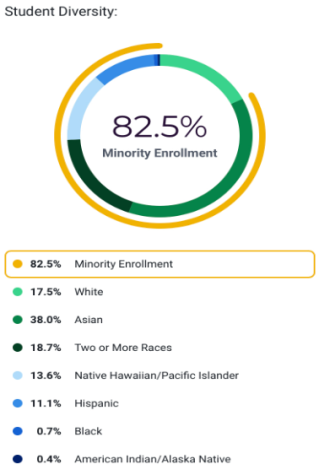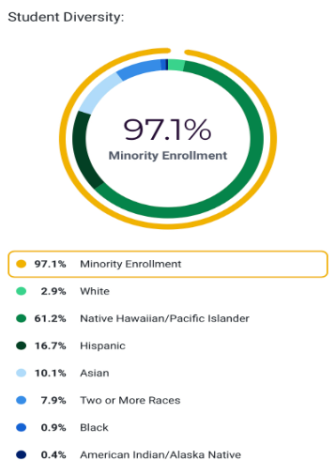 Race plays a huge role in the excellence gap, and by comparing and contrasting both the test score states and student diversity of both schools, it's clear that there is a link between the two.
 Kaiser High School's student ethnic background is mostly of Asian, mixed-race, and white people, meanwhile, Wai'anae High School's student body is 61.2% Native Hawaiian/Pacific Islander, with Hispanic and Asian trailing far behind. This is not by coincidence. It should be well noted that Kaiser High School receives much more funding than Wai'anae High School, and this is largely in part because of the area that the two schools reside in. 
Wai'anae is considered to be a school that comes from a more economically disadvantaged area, composed mostly of students of Native Hawaiian descent, while Kaiser High School, is largely more students from privileged backgrounds, that comes from the suburbs. This doesn't just go for Hawaii as well, as the distinct difference in funding in Mainland schools are from areas of a high minority population.
Big Picture
You may ask yourself "why should we care?", "what good are these programs?", and "how do they benefit our youth?". 
Although AP doesn't define more "advanced" learning in some cases,  it helps in the application process for colleges and can lessen the overall number of classes you take during college. It's more of a program aimed at putting you ahead of the curve, and often helps colleges identify that you are an individual that strives for more, despite a student receiving a B in the class and not an A. Though, the IB Program leans more towards garnered learning, and applies a new way of interpretive learning for one to reflect upon the world with. 
"The international part stands out because IB tends to not focus on one factor but it's more of an overall universal perspective and considering every possible factor of something. It's hard to explain, but this IB concept applies throughout all IB classes- I mean we have a whole course on learning about different types of knowledge and perspectives. So not only content, but how we see the world and how we learn is also taught to us," said by one student of the IBDP Program.
Others describe the experience of working in such programs as rewarding, as you are constantly surrounded by like-minded people who have the same goals that you are geared towards accomplishing. 
"I think it's a good experience – like you can be around people who have the same 'goals' as you, and it can be a nice challenge than the usual. But, depending on the course, and this goes for most of them, the work load can definitely be too much sometimes and it can be stressful.
The worst [of the program] is just stressing about the AP exams." said by a student of the AP Program.
In a way, being in these environments amplifies the learning abilities of students, more than that of being in a classroom that some students might not even hold a passion for.  Environments like this can even make school more enjoyable for some students, and shouldn't everyone have an education that they feel in control of?