Kaiser signs historic document to 'build peace through education'
This Tuesday, Principal Justin Mew signed an agreement establishing a sister-school relationship between Henry J. Kaiser High School and Hiroshima Global Academy (HiGA) in the presence of the Governor of Hiroshima Prefecture Hidehiko Yuzaki and the First Lady of Hawaii Dawn Amano-Ige.
The event was held on campus at the Henry J. Kaiser High School Library at 3 p.m.
"I expect this sister-school agreement to serve as an opportunity to open active exchange between both schools, and for students to gain the skills to collaborate and problem solve with students from different cultural backgrounds," said Yuzaki.
Both schools were to serve as the bridge between Hawaii and Hiroshima, said Yuzaki.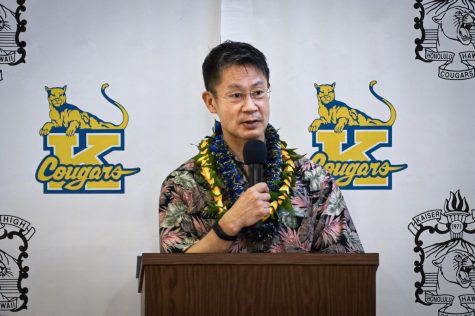 The agreement outlined the intentions of HiGA and Henry J. Kaiser High School, with plans to continue sharing student projects and implementing a new teacher exchange program.
"This is really for the students. My hope is that they are all very involved in deciding what the exchange looks like," said Amano-Ige. "I hope the students active in this project become engaged."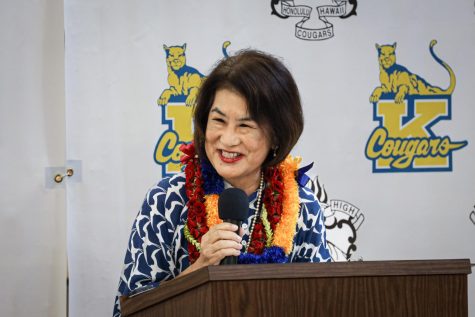 Though no plans are confirmed, school leaders anticipate online interactions with HiGA for the upcoming school year, with the promise of in-person programs to be determined. 
In addition to the sister-school agreement, Tuesday also marked the 25th anniversary of the Hawaii-Hiroshima Sister-State Agreement, which was signed by Hawaii State Board of Education Superintendent Keith Hayashi and Hiroshima Prefectural BOE Superintendent Rie Hirakawa.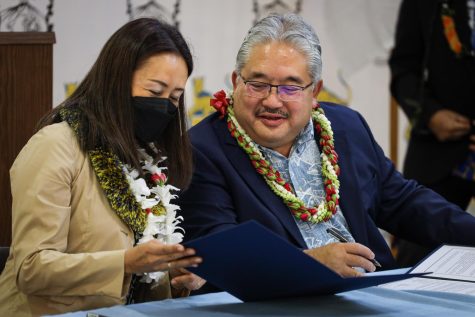 "It's a response to globalization," said Hirakawa. "It reaffirms the relationship between Hawaii State and Hiroshima Prefecture."
Following the signing of these two historic documents, there was a gift exchange between the new sister-schools.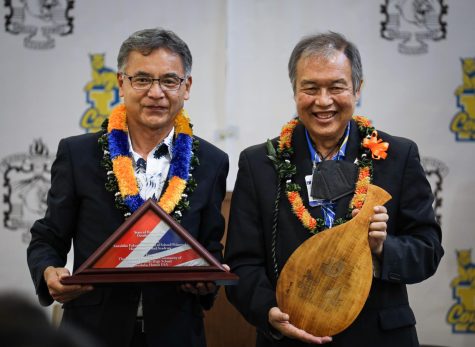 "We are expanding opportunities for our students, our teachers, and our school," said Mew. "It's an opportunity for us to build peace through education."
Both HiGA and Henry J. Kaiser High School were selected for their participation in the International Baccalaureate (IB) program.
"I could think of no better place for Governor Hiozaki to come than Kaiser High School," said Hayashi.